Node Browser Admin Console component for Alfresco Share
Author: Will Abson
This project defines a Share administration console component to navigate and view information on nodes stored in the repository stores, similar to the Node Browser component in Alfresco Explorer.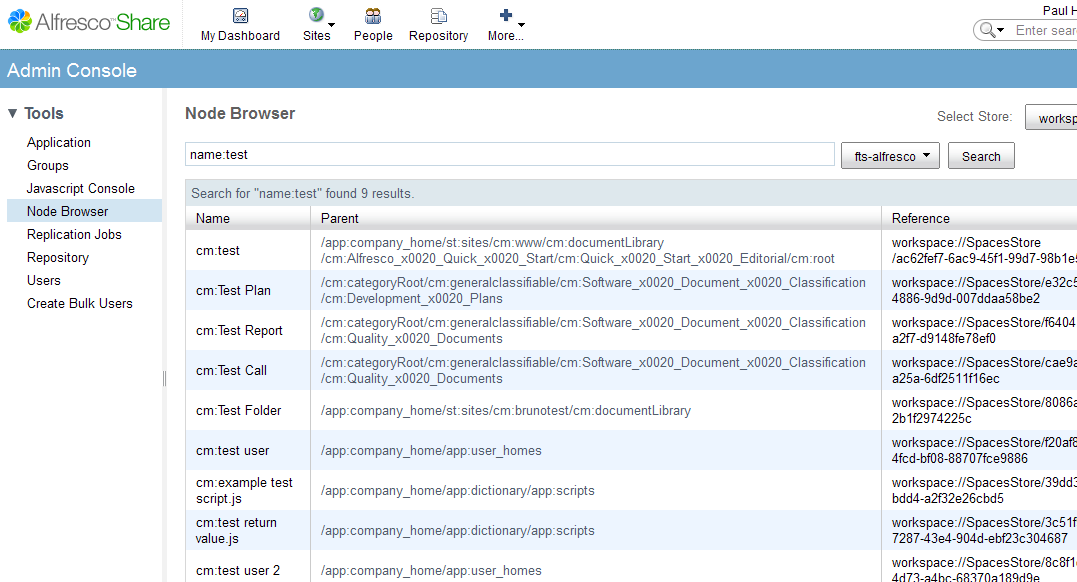 The Node Browser is included in core Alfresco Share 4.0 and greater, but this add-on my be used with previous versions.
Installation
The component is packaged as a single JAR file for easy installation into Alfresco Share. However as it includes a custom Java class, it must be installed directly into the webapp directory structure, rather than into tomcat/shared/lib.
To install the component, drop the node-browser-<version>.jar file into the following two directories within your Alfresco installation, and restart the application server.
tomcat/webapps/alfresco/WEB-INF/lib
tomcat/webapps/share/WEB-INF/lib
Building from Source
An Ant build script is provided to build a JAR file containing the custom files, which can then be installed into the tomcat/shared/lib folder of your Alfresco installation.
To build the JAR file, run the following command from the base project directory.
The command should build a JAR file named node-browser-<version>.jar in the build/dist directory within your project, which you can then copy into the webapp folders in your Alfresco installation, as in Installation, above.
After you have deployed the JAR file you will need to restart Tomcat to ensure it picks up the changes.
Usage
Log in to Alfresco Share and navigate to an Administration page such as Users or Groups
In the left-hand-side navigation, click Node Browser
Enter a search to return some results, e.g. name:test
Click on a result to start browsing the nodes
Known Issues
In version 3.4 The Node Browser does not appear automatically in the More… drop-down menu in the Share header component, however you can add it there with some basic configuration.